For years, Mexican food- especially tacos, had been a part of American's life. Since it is shares border with Mexico, we can say that Tacos is a really popular dish in California. So, if you're craving for a taste of Mexican food while in the western state of the United States, here's three of the best and oldest taco restaurants.

1. King Taco
https://www.yelp.com/biz/king-taco-lynwood

King Taco started from a converted ice cream truck in 1974. It is popularly known for using fresh ingredients and consistent quality. With its success, it expanded to 20 popular locations throughout Los Angeles. King Taco has been recognized by prominent food critics and has also placed within the top 100 of Hispanic Business Magazine's "Top 500 Hispanic Businesses." Their Menu consist of not just tacos but also with, burritos, tamales, roasted chicken, nachos, sopes and quesadilla.

2. Taco Nazo
https://www.yelp.com/biz/taco-nazo-bellflower

In 1978, Taco Nazo started as a lunch-truck and in just three years, it was able to open its first restaurant in La Puente, California. It was the first restaurant to offer Baja-Style Cuisine. Taco Nazo's menu items such as tacos and burritos feature marinated, char-grilled meats and other high-quality ingredients. After 10 years in the business, it became the most recognized seller of Fish and Shrimp Tacos in Los Angeles. This taco house now has six branches in California.

3. Mi Casa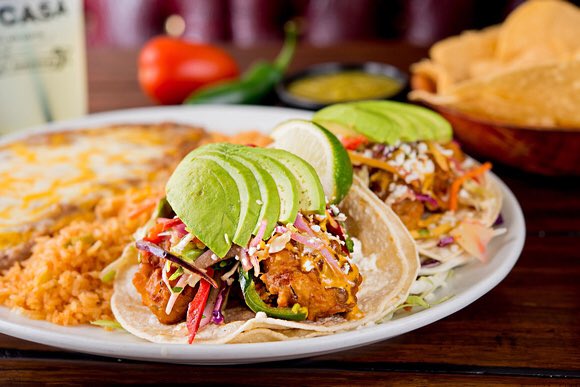 https://twitter.com/MiCasaCM/status/872949969493213184

Mi Casa is a family owned restaurant which started in 1972. The place is known as a local "hot-spot" as its rustic, red brick accents, weathered chairs, and beautiful dark wood accents provides a comfortable and relaxing environment. For 40 years, it has been distinguished as one of the best Mexican restaurant in the Orange County. Today, Mi Casa celebrates 45 Years of good food and festive times.

4. Bill's Taco House
https://la.eater.com/2017/2/16/14631300/cheeseburger-taco-bills-taco-house-south-los-angeles

Bill's Taco House is one of the first taco house to infuse their taco recipe with ground beef. Located on Martin Luther King Jr. Blvd., Los Angeles, this taco house made a slight variation of ground beef on their taco, known as the cheese burger taco. Their menu consists of not just tacos, but they also have regular burgers and fries, plus the Silva Burrito, a thumbs up to Hank- the second owner. Original Bill's Taco House exist before Tito's Tacos by a full decade, and Henry's Tacos even longer.

5. Blue Water Seafood Market and Grill
https://localemagazine.com/go-fish-12-fish-tacos-in-san-diego-not-to-miss/blue-water-seafood-market-grill-yelp/

Blue Water Seafood Market and Grill serves several seafood dishes. The restaurant located in San Diego is owned by fishermen who grew up in the surrounding waters surfing, boating, and diving. Their grilled seafood with your choice of marinade can be served in a sandwich, salad or on a plate. They are also famous for serving Fish tacos on the docks in Ensenada, where they were invented. Ahi sashimi in the galley on the boat ride home, sliced from that morning's tuna catch. White Sea Bass pulled from the Baja surf and grilled on the spot over a mesquite campfire. A must try as well is their homemade soups & chowders and fresh oysters on the half shell.

6. Petty Cash
http://www.latimes.com/food/la-fo-gold-20130727-story.html

Petty Cash, located in San Diego, started with the collaboration of Chef Walter Manzke and a myriad of talent drawn from East LA, Baja and more. Hi was inspired to create Petty Cash due to his fascination in creating a vibe which is connected to Tijuana and his love for music. The name Petty Cash is the mixed of both musical artists Johnny Cash and Tom Petty's name. On their menu are several tacos, from the famous Al Pastor to fish taco to Eggplant Taco and several more. Aside from tacos, they also serve cocktails, beers, nachos, quesadilla, sweets and more. This taco house will now reach more people as delivery via Uber Eats and Postmates is now available.

7. Bear Flag Fish Co.
https://www.dinenb.com/offer/bear-flag-fish-co-taco-tuesday/

The name was from the name of the both that the owner's family possessed. With his experience and knowledge in evaluating and treating fishes, the idea of creating his own business started. Their menu is filled with numerous seafood dishes, from their appetizer, soup and dishes and their main entrees. Their Bear Flag Fish Tacos is made from panko crusted white fish with cabbage, pico de gallo & Tommy sauce. While their specialty Tacos is with choice of fish with cabbage, pico de gallo & Tommy sauce.

8. La Super-Rica Taqueria
https://www.pinterest.com/pin/116178865357854520/

La Super-Rica Taqueria is located in Sta. Barbara, California. This food joint became famous as Julia Child, a french cuisine visionary is one of America's most beloved kitchen treasures, singled out Super Rica as one of her favorite places to eat. Until today, La Super Rica often has line out the door of customers who wanted a taste of some seriously delicious Mexican food. The joint is also known for the price of their dishes. The priciest only cost $7 while most of the other dishes only cost less than $4 bucks. It's safe it say that you'll be exiting the place with a full tummy and a not so slim wallet.

9. Guerrilla Tacos
https://www.yelp.com/biz/guerrilla-tacos-los-angeles

This business was started back in 2012 by Chef Wes Avila with his passion for cooking and love for Tacos and Los Angeles. He wanted to make a gourmet food accessible to the street. Their dished changes daily as they will only create it based on what fresh ingredients they can get from local vendors. Their following quickly grew, so they got a street cart and set up outside some coffee houses. But it wasn't enough so short time later, they got the truck. Aside from tacos, they also serve quesadilla, Agua Fresca and Ahi Tuna Tostado.

10. Esther's Taco House
https://www.yelp.com/biz/esthers-taco-house-placentia

Esther's Taco House started in 1957 by Esther Hernandez and her mother. It first opened in Downey, California. At the beginning it was strictly take-out food and there was only one table to sit and wait for your tacos. But, all the customers wanted to sit and eat their food there, so when the shoe repair shop near them closed, Esther expanded her restaurant to add a dining room. Their menu contains beers, appetizers- chips, nachos, and quesadilla and chicken wings.