This Store Will Bring You Back to Your Childhood Years

Toys has always been a part of everyone's lives. Who never got to have a chance to have one? Some might say that they don't because they can't afford it when they're young, but what they do not know is that even the most little piece of wood they used to play with can be considered as toys. No matter what form, size, color or where it is made of, as long as it's something that makes you happy when playing with it, you may consider it as your toy.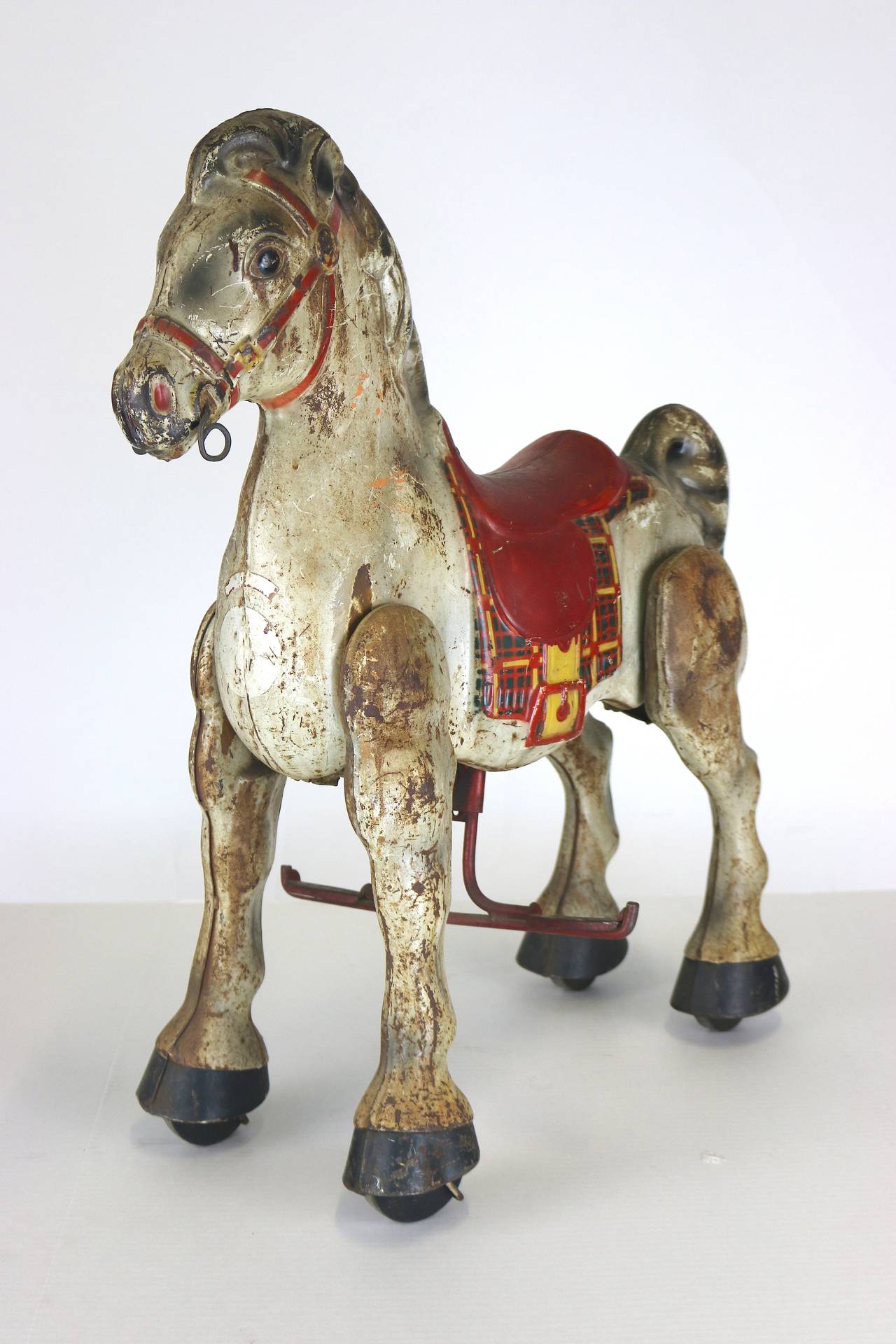 https://www.1stdibs.com/furniture/folk-art/toys/vintage-english-folk-art-childs-toy-riding-horse-great-display/id-f_986830/

The earliest-known written historical mention of a toy comes from about 500 BC in a Greek reference to yo-yos made from wood, metal, or painted terra-cotta. Yes, the yo-yo of today had been existing in these world longer than all of us! Well, in fact, it is believed that yo-yo originated in China on a much earlier date. Aside from yo-yo there are several toys that we are still enjoying today that originated several years ago. The kite had been flying around in the skies of China since the 1000 BC, it is now played by everyone around the world during the fine weather. Animal figured toys as well had been existing since the 2500 BC. It is one of the most common plaything in India during those times. Before, these figures are made of clay but now we can see variety of animal figures, there are plastic, rubber and some foamy ones as well.
https://www.brit.co/raspberry-pi-projects/

Before mobile applications, toys are the ones used not just for entertainment but for learning as well. There are toys with music that teaches kids the alphabet, numbers or colors. There are toys which you need to match the holes to the blocks of different shape in it. There other toys that helps kids in learning and solving math problems as well. Nowadays, these toys are not just for basic learning because we may now see toys that teaches us with human anatomy. These playthings also helps children know or start thinking of what they want to be when they grow up. Mobile applications might be more reachable these days but having a toy that a kid can really hold, move, and play with will always be a better option as it helps them become more physically active and less prone to radiation.
https://www.yelp.com/biz/g-willikers-toy-emporium-sacramento

Well, a store in California really valued the importance of each toy. G. Willikers! Toy Emporium is located in Old Sacramento. This shop do not just have the latest toys but will also bring you back in time. With these, not just the young ones will adore this place, but also the kids at heart. This place will bring out memories of your childhood, the games you played with, the moments treasured and the people whom you played it with. This shop was established last 2005 and was considered as Old Sacramento's premiere retail shops. Well, it was created not so long time ago but a trip to this store will make you feel that you're playing with your parent's favorite toys back when they were younger. Wouldn't that be a great bonding experience? They may teach you how to play the toys they used to love and you can teach them the toys that you also played with.
https://www.stagenine.com/gwillikers/

The concept of the store is to introduce its customers to simpler toys that does not include microchips or batteries- a lot less high-tech. Also, they do not just sell toys that went on trend or famous but also toys that maybe hard to find. If you'll be having a reunion with friends and you want to have the things that will remind you of those times that you spent with your friends and/or family, this shop will help you find the best tool to do it. You might find some old board games here that you might have played before.
https://www.yelp.com/biz/g-willikers-toy-emporium-sacramento

Aside from good toys, the place is also visually attractive! G. Willikers! has many traditional build wonders such as the LGB Train Mountain, with several other automated train sets running all day to the Route 66-themed area with an amazing assortment of toys most people probably haven't seen since the 70's or 80's. The LGB Train Mountain will really add to the old-fashioned feel that the store provide. No worries if you think that the new generation of kids will not enjoy this because we are sure that they'll do. It might also be a good way for them to start minimizing using their gadgets to play games and start becoming more physically active.

http://fox40.com/2012/11/27/photos-g-willikers-toy-emporiums-12-toys-of-christmas/

When will be the best time for you to visit the place? As soon as you possibly can for you not to miss out on all the hard to find toys and the chance for you to create a bond with the young ones in your family!