California is a haven for extremely delicious meals. You can find all sorts of cuisine, from Asian, American and the most loved of the locals- Mexican Cuisine.
Though there are truly a lot more culinary fusion and food origin that is around the state, Mexican Food became a great deal. Locals even infused its flavor to some of their American snack.
One of the greatest reason why it became very popular is due to the fact that California's geographical location is beside Mexico. This made it easy for Mexicans to enter the said state and start creating a business.
We know that you have tried a Mexican delicacy and we are sure that you loved it as much as we do.
How did we know? Well, you won't be reading this if you are not interested in finding the best place to enjoy an authentic Mexican food.
We know you're excited. We won't make you wait longer. Here are the places where you can find the most delightful Mexican food in California.
https://www.tripadvisor.com.ph/Restaurant_Review-g60750-d877491-Reviews-Las_Cuatro_Milpas-San_Diego_California.html
Let's begin this list with a restaurant that is on one of California's most laid back places. Las Cuatro Milpas is locates in Barrio Logan which is not a favorite spot of tourists. If you roam around this place and you notice a long line outside a diner, then you are probably near Las Cuatro Milpas. This eatery has been in service for more than 20 years and there is no doubt that locals love it that much that. They are willing to wait just to taste their amazing tacos, burritos and all sorts of Mexican delicacy. The only meats here are pork, chicken and chorizo.
http://www.tacomaria.com/
Chef Carlos Salgado of Taco Maria established this business as a tribute to all the Marias in their family and the recipes from their kitchen. With this, you can already tell that all the food in this place has true Mexican flavors. The space inside is just small but that doesn't stop their customers from coming. Well, they cannot find other place that serves tortillas and beans that as good as Salgado's. Their meals are presented with a modern touch that will truly attract your appetite. With all the amazing things here, it truly deserve to be in several list, not just of Mexican restaurant but of the best restaurants in the state.
https://lovefoodbyvalerie.wordpress.com/2011/09/01/babita-mexican-in-la/
A certified classic is Babita. Once you get in, you will think that the place is too boring to eat in. However, its simple table setting is inspired from the simplicity of classic Mexican restaurants. White table cloths and wooden tables and chairs is where you will be eating. This display states that what you will be having here are food with authentic Mexican flavor that will make you order for more. Well, their plating is also eye catching. Once you receive your plate, you will understand why they chose to use plain white table cloths.
https://www.yelp.com/biz/taqueria-santos-laguna-sacramento
For the millennials, Taqueria Santos Laguna is one of the best. When you visit the place, you will immediately notice long lines of young adults piling up and waiting for their turn. Inside out, the place is simple. It's not something fancy nor modern. But, each meal served here is worth keep coming back for. Though they serve rice meals, you shouldn't miss their finger licking tortilla that is one of their signature item. Visit this diner in Sacramento now and be sure to bring some patience for you need to wait for your turn. No worries, the wait is worth it.
https://sandiego.eater.com/2015/1/26/7918673/barrio-logan-gets-a-bright-new-taco-infusion
We don't really know why Barrio Logan is not a popular tourist spot. But that's okay because it is a favorite of locals because a lot of delicious and authentic Mexican food can be found in the area. Another favorite is Salud!. If you want to enjoy the classic flavor of tacos – carne asada, al pastor and fish tacos that is served directly from the cart, then this is where you should go. The place is artsy as well. Colorful walls, wooden dining, old school ceiling fans and modern lighting made the place cozy and interesting.
https://www.tripadvisor.com.ph/Restaurant_Review-g32655-d364729-Reviews-Guelaguetza-Los_Angeles_California.html
If you are looking for a place with a real Mexican vibe and food, then Guelaguetza is the place to be in. The place used floral vinyl tablecloths that is a standard for Mexicans. Plus, in is really lively inside because of the live music. Well, Mexicans love playing instruments and singing. This is said to be one of the best Oaxacan restaurant in California. That is unquestionable because even their Mole Sauce made a name of its own. Their sauce is good, there's no doubt that their meals are delightful. Try their nachos, quesadilla and sweet enchiladas.
https://www.yelp.com/biz/oscars-very-mexican-food-sacramento-2
If its name is not enough to convince you, then we don't know what else will. Oscar's is very confident in saying that what they serve are Mexican food that has original Mexican taste. This diner make sure that they won't just serve delicious meals but will also give you the freshest ingredients. Also, you will be amazed on how large each serving is and that you can add avocados in your order for just a small price- who wouldn't want an avocado?! You will often wait for you to enjoy a treat from this place- but it's certainly worth the wait.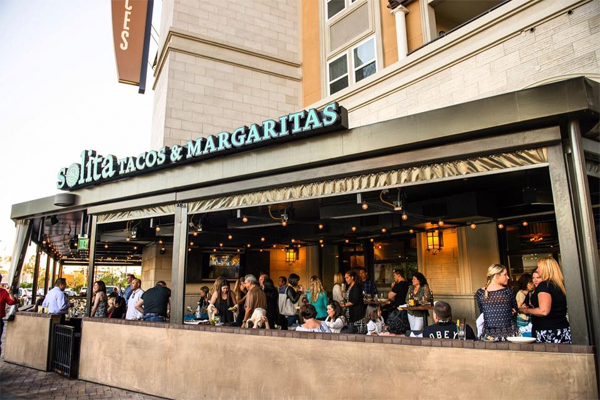 http://urbandiningguide.com/city/huntington-beach-restaurants/place/solita-tacos-margaritas-huntington-beach/
A very relaxing and modern dining is what Solita will offer you right from the time you enter the place. It's simple yet very edgy interior will make you feel amazed. Solita's in Huntington Beach has a porch that will let you dine while enjoying the view. It's lined bulb and weaves chairs gives it a Mexican feel. With their food, you will be mesmerized on how well they were able to mix the colors of each ingredients. Truly a home for an artsy but tasty Mexican treat that you won't be able to resist.