Something crunchy and savory, Fish and chips is truly a staple part of America's favorite dishes.
But little did we know that it is actually of British origin.
This battered fish and hot potato chips is simply a perfect match. We might not know specifically why, but with both having a crunchy outer part and soft on the inside it has been a favorite of people in all ages.
This dish is a complete deal since it is packed with nutritional benefits. Protein from fish and carbohydrates from those fried potato chips are just few of those. This is why some choose to enjoy it as it is.
It is also easy to eat so some enjoy it to go rather than a dine in treat.
Fish and chips might not be originally from California but with the state's geographical location, it has been a favorite dish by the locals. Also, with its location, each ingredients are fresh and really flavorful.
With the number of restaurants serving it, even tourists made it a part of their must try list.
If you haven't tried one, well it's your lucky day. We might not be able to give you a treat but we can surely help you find the best place for you to have one.
Though it will be too long to list all the best diners in California, we'll first list down the best spots for fish and chips in Northern California.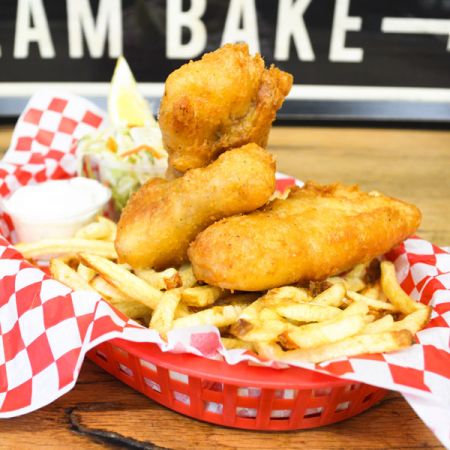 https://laketahoethisweek.com/morgans-lobster-shack/menu-item/fish-chips
If you are planning to go to Nevada County, then a must visit place in Truckee is Morgan's Lobster Shack and Fish Market. Enjoy eating their well-known fish and chips while sitting in their patio with the view of a gorgeous mountain. From the store name itself you can easily say that this diner specializes on seafood- and well, they are really doing great in it. Morgan's ensure that their customer only receive the best and the freshest. They source their seafood from Lake Tahoe and fresh fish are arriving in their restaurant almost every day.
https://www.yelp.com/biz_photos/hotel-leger-restaurant-and-saloon-mokelumne-hill-2?tab=food
Hotel Leger is actually one of the oldest running hotels in California. It is not as fancy as other hotels in the state but it has been a Calaveras County's favorite because of its very welcoming vibe. This hotel have their own Restaurant & Saloon where you can enjoy mouthwatering meals that will surely make your tummy full. Their house favorite is Fish and chips. They made sure that each fish is hand dipped and golden brown and undeniably crispy. You'll surely love every bite as you sit down in their very cozy and quite laid back dining area.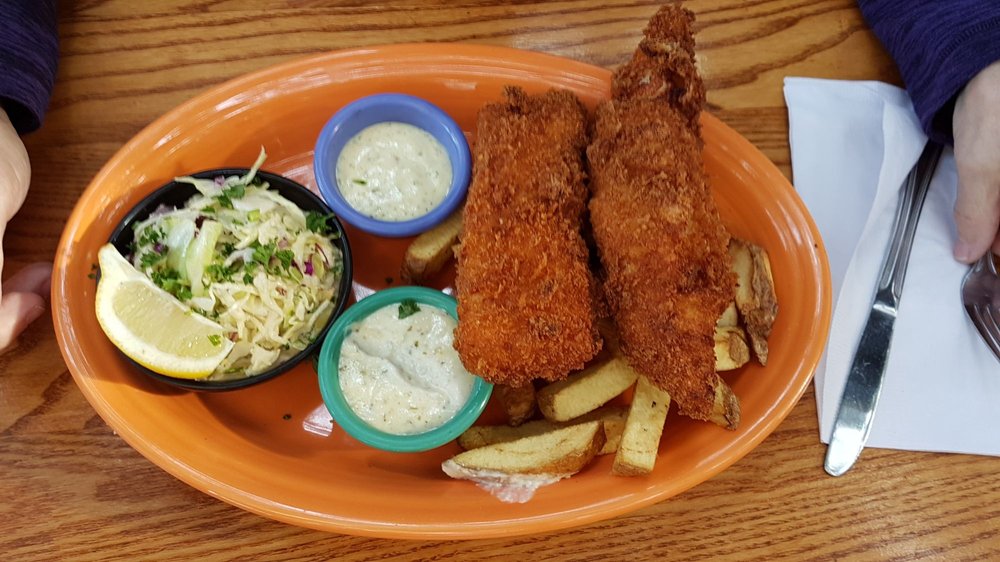 https://www.yelp.com/biz_photos/tower-cafe-sacramento?select=kYeV7fWnt9dtf8NudC45iw
When in Sacramento, a must visit place is Tower Café. This café is the quirkiest and one of the coolest café in the city. Its walls are field with paintings, decors, statues and more! Plus, they made sure that it will feel very homey as they incorporated green leafy plants in their diner. When it comes to their meals, a classic favorite is their fish and chips. This is served with coleslaw and they made sure that each chunk of fish and fries are big, crunchy and flavorful. You'll get to enjoy two sauces in every order as well. Their Santa Fe salmon is also a must try.
https://www.yelp.ca/biz/cafeteria-15l-sacramento?start=440
There is no doubt that America's classic dishes and snacks are the best. And if you want to enjoy having those classic in a contemporary yet very cozy place, then Cafeteria 15L is the best place to go. This restaurant serves and gives justice to the classic, including the all-time favorite- fish and chips while ensuring that you are comfortable and mesmerized by the place' artistic design. This battered fish is served in big strips that is truly finger licking good. It is served with a delicious tartar sauce that will certainly make each bite burst with flavor. Sit, dine, make new friends as you get your belly bloated.
https://sanfrancisco.cbslocal.com/top-lists/best-fish-chips-spots/
Woodhouse Fish Company is definitely a staple when it comes to seafood restaurants in San Francisco. Once you step into the place, you will feel the diner's love for the sea. The place is field with small boats and ships that is perfectly matched with wooden table, chairs and flooring. This atmosphere made this a favorite hangout place for the kids at heart. There is also no doubt that this diner served one of the best fish and chips. Served in a classic manner, each fish comes in big strips that you can easily eat with your fingers.
https://www.danettesbrickovenpub.com/about-us.html
If you are craving for an overly topped pizza that is definitely delicious, then it's time to visit Danette's Brick Oven Pub in Placerville. This pub is best known for their pizza and towering burgers. The interior of the place is a classic, nothing would seem very special until you see every plate of your ordered meal. It might not be their most popular item but they still managed to make their fish and chips one of the best. This became the best not just because of its flavor but also with its volume.
https://www.yelp.com/biz/camelot-fish-and-chips-pacifica
I guess we don't have to say much about this since the name itself states that this place is known for their fish and chips. Camelot is located in Pacifica and is just an ordinary pub that doesn't really look enticing for new comers. But once you enter the place, you will feel the British vibe right away. And since Fish and chips is from the British origin, there's no doubt that this pub is one of the masters in creating this dish.
https://www.thetastesf.com/fish-sausalito/
Yes, the name of this restaurant in Sausalito is as simple as that. The name might not be that attractive but with the restaurant's vibe and food, it has been one of the local's favorite. Your tummy will surely be happy once you ordered their well-known fish and chips as you sit down outside the restaurant and look into several yachts.
What are you waiting for? Grab your keys and drive to this awesome places and try their fish and chips! Let us know what you think about it. If you think your favorite diner deserve a spot in this list, then let us know why! Enjoy each crunchy bite everyone!